Introduction:
In the heart of the mesmerizing Rocky Mountains, Peyton and Kevin embarked on a journey of love that will forever define their beautiful union. Their elopement, carefully arranged by Tanan Elopements, took place at the breathtaking Moraine Lake. Their story, marked by chance meetings and unforgettable adventures, is a testament to the power of love.
The Disney Connection: Where It All Began
Peyton and Kevin's love story has the charming beginnings of a fairy tale. They first crossed paths at a Disney conference, an encounter that was all the more magical considering they both grew up in the same city. Little did they know that their connection would lead to a lifetime of love and happiness.
Six Weeks on a School Bus: The Moment of Realization
The turning point in their relationship came during an adventurous journey. They traveled together on a school bus for six weeks, an experience filled with fun and unforgettable moments. It was during this journey that Kevin realized he wanted Peyton by his side for the rest of his life. The ease with which they navigated their adventures was a sign that their love was meant to last.
A Surprise Proposal: Love on the Beach
Peyton had no inkling of the surprise that awaited her. While they had discussed marriage, she thought the proposal would take place in Banff during their elopement week. To her astonishment, Kevin chose a different moment. On a trip to San Diego, where they had first lived together, they attended a friend's wedding and embarked on a day trip to Disney. The day ended with a walk down memory lane along the beach, culminating at their favorite spot. It was there that Kevin got down on one knee and asked Peyton to be his wife.
What They Love Most About Each Other
For Peyton, Kevin's trustworthiness is what she cherishes most. His reliability and unwavering commitment are qualities that make their love even stronger. In turn, Kevin adores Peyton's sense of humor. Her willingness to be goofy and embrace his own quirks and silliness is something he deeply loves about her.
Personal Vows: A Heartfelt Promise
Peyton and Kevin have decided to write their personal vows, crafting promises that are uniquely their own. These vows will be a testament to the depth of their love and commitment.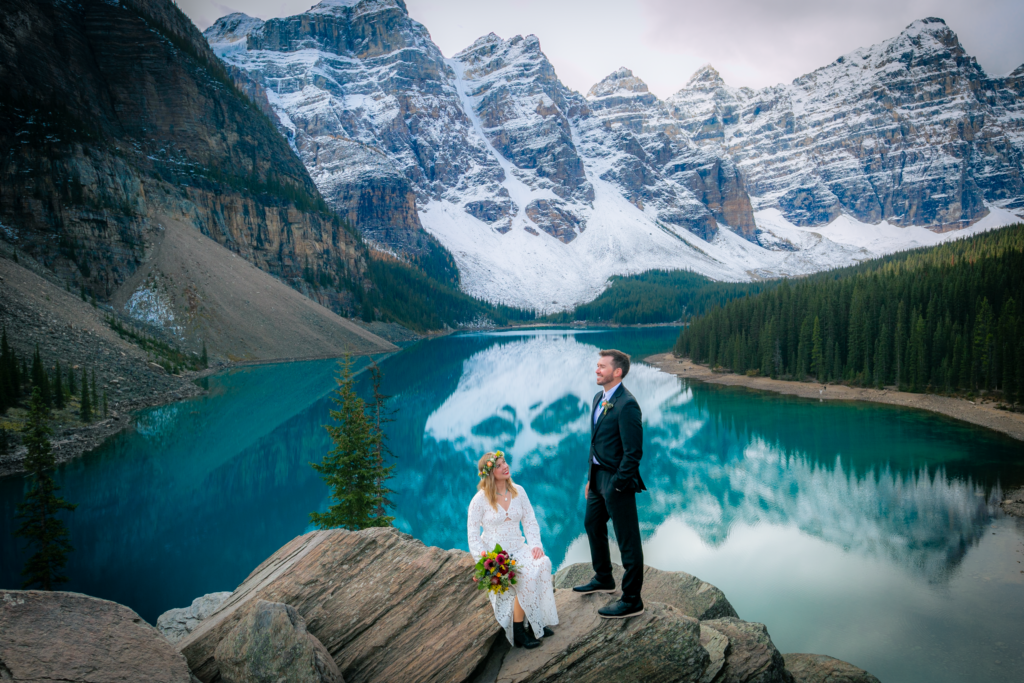 A Musical Dedication:
To accompany their wedding highlights, Peyton and Kevin have selected "You're My Best Friend" by Andrew Simple. This song perfectly encapsulates the friendship that forms the foundation of their love.
Ceremony Vibes: Casual and Fun
The couple envisions a ceremony that is "Casual/Fun," reflecting their relaxed and joyous personalities. Their elopement will be marked by laughter and love.
A Celebration of Love: Personal Touches
While no specific individuals or elements are mentioned to be incorporated during the ceremony, the entire day is a tribute to their love story, making it a truly unique celebration.
An Intimate Gathering: Just the Two of Them
With no guests in attendance, Peyton and Kevin's elopement is an intimate and private celebration between two people deeply in love.
Simple and Beautiful: Their Unique Elopement
With no flower girls, ring bearers, bridesmaids, groomsmen, special readings, or anyone giving away the bride, Peyton and Kevin's elopement is a reflection of their unique love story.
The Beginning of Forever: Husband and Wife
At the end of their elopement ceremony, Peyton and Kevin will be introduced as "Husband and Wife," marking the start of their lifelong journey together.
Conclusion:
Peyton and Kevin's elopement at Moraine Lake, orchestrated by Tanan Elopements, is a story of love that defies convention. Their journey, marked by chance encounters, unforgettable adventures, and a deep sense of trust, is the epitome of a lasting and beautiful love story. As they stand beside the captivating Moraine Lake, their love story is illuminated by the beauty of the Rockies. This elopement, filled with simplicity and love, is a reminder that love can be found in the most unexpected places, and when it's real, it's truly unforgettable.